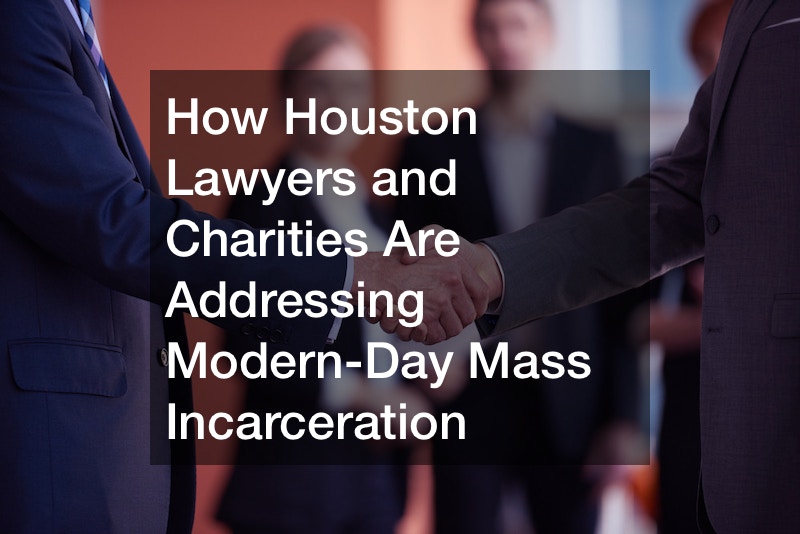 How Houston Lawyers and Charities Are Addressing Modern-Day Mass Incarceration
Mass incarceration is a monumental issue across America, depriving normal people of the freedoms they deserve. Though many formal bodies are turning a blind eye to this serious problem, there are many admirable charities working to make a difference to incarcerated people and their families. To discuss this phenomenon further, this article will discuss a wealth of Houston-based lawyers and charities, who are working to bring mass incarceration to an end.
Understanding Modern-Day Mass Incarceration
Despite seeing declining rates of incarceration, the US still has the greatest amount of inmates, compared to any other country in the world. This begs the question as to why America feels the need to incarcerate its criminals, rather than using an array of effective retribution strategies. We may also begin to question the role of a lawyer and whether they are effectively bringing justice to our nation.
America's growing prison population is actually putting the country under great strain. By placing eligible workers and functioning citizens behind bars, the country will see a declining labor force and will have to continue to rely on immigrants to complete its work. Whilst this can be seen as a prosperous benefit for some industries, it leaves many Americans with no choice but to continue to commit crimes.
Mass incarceration also goes hand-in-hand with racial disparity, showcasing that Black Americans are 5x more likely to be locked up in state prisons than their white counterparts. This leads us to believe that American prisons act under a glaring racial bias, which only adds to the tensions seen across the country in modern years. Continued racial bias in prisons increases the chance of formal citizens being profiled, which can also lead to false accusations and sentencing if left to spiral out of control.
Fighting to Change the System from Within
In order to maintain the Black experience and history seen across Houston, many lawyers and charity workers are eager to bring these people out of prison and into society. Many protestors are also spreading the word, hosting rallies, talks, and even art installations to bring light to this sensitive topic. SaveArtSpace is a non-profit organization that recently produced a number of striking 8×5 billboards to showcase how common mass incarceration is in Houston. By sharing these pieces across this bustling city, the citizens are now more aware of the issues and have more information on how to protect inmates from further forms of injustice.
8 Charities That Are Addressing Modern-Day Mass Incarceration
1. The Sentencing Project
With a mission to advocate against extreme sentencing, The Sentencing Project works alongside a selection of local criminal attorneys to help those who are bound to life in prison. This charity is also best known for its Second Look campaign, which asks for a review of all inmates who have been imprisoned for a minimum of 10 years. The Sentencing Project also places a lot of its passion in youth facilities, ensuring that Houston's next generation is not forced to spend their lives in prisons for mistakes they made when they were children. By collaborating with around 150 state-level organizations as well as a further 68 nationwide groups, this charity is eager to change this broken system for the better and create legislation that works to change the lives of harmless criminals.
2. Vera Institute of Justice
First founded in 1961 by Louis Schweitzer, the Vera Institute of Justice acts as an admirable policy research group. Using data from local criminal attorneys, criminal defense lawyers, as well as more prominent national cases, this charity is a key resource for those looking to promote reform. Throughout its history, the Vera Institute of Justice has placed its focus on the areas with some of the highest levels of incarceration, teaching these people that they can escape this vicious loop and pairing them with professionals who can get them the justice they deserve. During 2020, when we saw the likes of George Floyd and Andre Hill become victims of police brutality, the Vera Institute of Justice compiled data on police budgets and campaigned to have this money spent elsewhere and place less focus on law enforcement in relation to public safety, highlighting its understanding of racial issues across America.
3. Race Forward
In order to dispel and dismantle the racist laws that govern America's prisons, Race Forward is campaigning to abolish mass incarceration and amplify the damaging effects it has on people of color. Set up by Gary Delgado in 1981, the charity has worked tirelessly to bring incarcerated citizens to justice but also tries to promote the work of other grassroots charities. The Mass Freedom Cohort is a project that blends a wealth of advocates and encourages them to join together to defeat the common enemy. Race Forward also collaborates with government officials to ensure that inmates have access to everything they would need to have a fair trial such as a criminal law attorney and information on their rights.
4. Prison Policy Initiative
Equipped with a bustling array of hard-hitting statistics, the Prison Policy Initiative is a data-driven resource that aims to convince prominent figures to delay jail growth in America. Alongside this information, the charity also boasts a compelling Advocacy Toolkit, which ensures that everyone from a regular person to a federal criminal defense lawyer, has a greater understanding of the grave consequences that mass incarceration can have on America. The Prison Policy Initiative also commissions a wealth of stylized infographics as well as some more moving pieces that intuitions can use to condemn the work of prisons across the US. As such, this is a fundamental charity for those looking to blend the nuances of art and quantitative data to help get their views across effectively.
5. The Bail Project
Although a bail bond company can help criminals live free and just lives whilst they await their sentencing, these bonds can be very expensive for the average person. As such, The Bail Project was established to help these criminals pay for their bail, without having to put themselves in too much unnecessary debt. In addition, The Bail Project has managed to save over $92 million in tax dollars, keeping the American economy from falling under due to an unfair system. This charity believes that criminals should be reunited with their families and given the chance to make a better life for themselves, rather than wasting their valued time sitting in an empty jail cell. Exposure to a prison environment can also be a very negative experience for people, so this charity allows criminals to be placed in a positive space and away from any harmful influences. It also works to offer an alternative to bail, providing criminals with support and helpful resources to help them get on the right path.
6. The Liberty Fund
The Liberty Fund was established by Pierre F. Goodrich in 1960 as a way to promote a restorative society. Nowadays, the charity places a grand focus on the free nature of society and promotes the idea that liberty should not be a conditional right. This charity cleverly uses a plethora of Socratic-style conferences, using books and online resources as inspiration for its world-renowned conferences. These talks work to explore the nuances of liberty in America and discuss whether they are still relevant today. The Liberty Project also works to present a variety of famous legal literature such as 'A Historical Sketch of Liberty and Equality', as well as 'Government by Judiciary' in a more condensed and simplified fashion. Thus, the average person can now learn about key legal elements such as emergency bail bonds, and human rights legislation, giving them the knowledge needed to find justice in their case.
7. Equal Justice Initiative
Equal Justice Imitative, also referred to as EJI, focuses on a wealth of compelling criminal justice reforms from the death penalty to helping children who are stuck in adult prisons. Its work on mass incarceration involves educating lawmakers on the drawbacks associated with over reliance on incarceration and how it can actually have a negative knock-on effect on the country's economy. Thus, the charity links inmates with advocates and professionals such as DUI lawyers to put an end to excessive punishments and allow non-violent criminals back onto the streets. EJI is best known for its breathtaking museums and legacy sites that help to educate visitors on the impact prison has on our societies as well as shine a light on the racial segregation associated with these institutions. Thus, these are very powerful landmarks to visit if you are eager to learn more about racial issues in America through a much more intimate and immersive perspective.
8. Families Against Mandatory Minimums Foundation
When a person is excessively incarcerated, their families also suffer the consequences. As such, children and spouses may experience poverty, homelessness, and judgment, all because a person has been trapped in a prison cell for far too many years. Families Against Mandatory Minimums Foundation creates resources for families, advocates, and lawmakers, covering every aspect of this important issue. With regard to lawmakers, this charity presents an abundance of vital data as well as proposed mandatory sentencing laws to offer defense attorneys everything they would need to make the change they would like to see in the world.
How Can American Put an End to Modern-Day Mass Incarceration
Reduce the Length of Prison Terms
Although prison can be a valuable way for criminals to reflect on their actions and picture a brighter future for themselves, extensive prison terms can have the opposite effect. If an inmate cannot see themselves leaving prison, they will have no reason to change their behavior and become model citizens. Thus, this could lead to more violent and adverse acts occurring inside the prisons, putting even more inmates at risk. By reducing the length of regular prison terms, inmates have a better chance to reinvent their lives and work to achieve their goals.
Implement Alternatives for Non-violent Crimes
Those who commit non-violent crimes such as substance use and prostitution, may actually benefit from a range of therapeutic practices, rather than a long stint in a jail cell. Since these crimes are usually influenced by mental health disorders like addiction, the criminal is more likely to act on these impulses, if they do not solve the root of the issues. Thus, lawmakers could work alongside a selection of mental health practitioners and psychiatrists to help soothe these long-term issues and work toward a sense of positive recovery.
Decriminalize Certain Crimes
Certain drugs, like cannabis, can lead to higher incarceration rates, despite evidence that it does not have as many side effects as its counterparts. Thus, by decriminalizing this substance, law markers are less inclined to punish the people who use it, leading to less tax dollars being spent on prisons. Moreover, by educating citizens on the effects of cannabis use as well as its potential side effects, states have a better chance of deterring people from using it, rather than having it ban it across the board. Thus, citizens are able to make their own decisions and are less likely to be influenced by misinformation or the thrill of taking a criminalized substance.
Houston lawyers and charities are working in tandem, and unity to put an end to the tragic notion of modern-day mass incarceration. These professional bodies and local criminal attorneys are collating a plethora of quantitative and qualitative data to ensure that inmates have a better chance of being freed from prisons across the US. This has a wealth of advantages, meaning that America has the chance to blossom and thrive, creating a sense of respect and justice across the nation. If you are eager to also support this cause and help Americans break free of excessive prison sentences, be sure to research and donate to the charities listed in this article